I think I had sorta promised I'd blog about stuff beyond music. Fashion, I think? Well, here we go. I was really good about keeping a style diary last summer, but I haven't done as well this year. However, I liked my outfit yesterday so much, I made the time to take a few (crappy Photobooth) photos.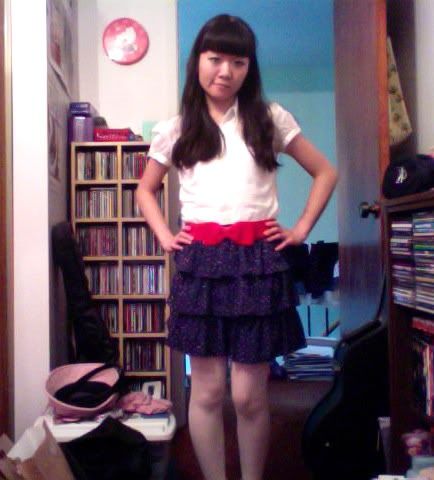 Cream pintucked/eyelet blouse - Forever 21
White tank top - Forever 21
Red bow belt - H&M
Navy w/ cream polka dots tiered skirt - Urban Outfitters
Cream cableknit tights - Gap
not pictured:
Silver flats - Sears
Three more photos after the jump...
I wore it with a cream lace-back cardigan because it's chilly at my office!
Closer look at the detailing on the blouse.
I'm seriously in love with this bow belt from H&M!